What we do & how
We help companies unlock people potential and engagement, focusing on strategic transformation and mentoring:

"We are passionate about helping business owners and leaders to improve their company performance. Our team and advisors have multi-national, cross-functional and multi-cultural array of experience from leading blue chip businesses around the world.
We believe that the most successful companies have solid strategy as well as executional capability. So, what makes a difference? Some leaders even understand the link between successful business transformations, active team mentoring, team health, fitness and mindfulness and company performance. Many however struggle with designing a meaningful strategy and tools to bring this competitive advantage alive."
Would you like to understand more how specifically Imbangan professionals can help you to transform your business?
Success stories
Our clients are often very satisfied with our advisory work. Have a look at some of their testimonials.
"Under the umbrella of Dubai Fitness Challenge we had engaged Imbangan to get the entire Smart4Power team into the exercise mode. The ExFitt online fitness program gently builds up over the 4 weeks initial period and allows for participants of all levels of fitness. The live video calls with Dan were fun and created a lot of momentum and engagement within the team."
Andreas Kolb, Managing Director Smart4Power, Dubai
Resources
Business news, recent events, more resources about employee health, fitness and mindfulness.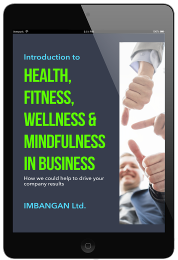 Download a simple overview how we could help you.